2023 Wreath Pick-Up
At the Barn | November 25th | 10:00am to 4:00pm
Back in the woods where you can hear the river, evergreens continue to flourish. Rachel Alexandrou has tipped the most beautiful among them to bring us another season of unique wreaths with new orders mixed in, which are available for preorder below. Come to the barn for pick-up and be sure to venture inside for a warm up by the fire and some Good Supply cheer!
Wreath Pick-Up* with Giantdaughter
When | Saturday, November 25th, 10:00am-4:00pm
Where | 2106 Bristol Rd. Pemaquid

Why | Holidays in the Barn is fun, and abundant greens are awesome!
________________________
*Preorders are encouraged, though there will be extras on hand. See you soon!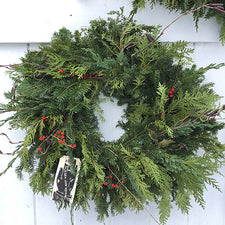 Wild Maine Wreaths for Pick-Up Only
Asparagus and Sumac Wreaths for Pick-Up Only